Infinite Crisis Beta With Flash and Joker Gameplay
Online multiplayer game Infinite Crisis has headed into Closed Beta. Comic book fans may enjoy this free-to-play PC game inspired by the DC universe that allows players to become a mighty superhero or villain. For its latest gameplay trailers, we take a look at one of each category.
One of the most iconic characters from DC is undoubtedly The Joker. He'll receive a top spot in this game as well, but as a fragile ranged character that keeps his opponents at bay with his skills. A passive trait will allow him to deal extra damage and steal more life. Actively, he can shoot a giant boxing glove out of a cannon or throw an exploding present on the ground for area damage. As a feint, The Joker uses a teleport that also leaves a punching bag behind. Should that bag erupt, it will deal additional damage. His largest attack is called Last Laugh and throws a doll into a wide area, which then explodes and releases laughing gas that poisons others.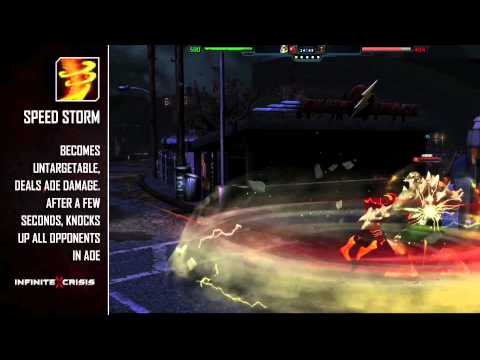 Faster players can turn to The Flash, as all his powers rely on his speed, which gets enhanced by a passive skill that boosts it any time he uses an ability. Another skill bulrushes enemies, while others increase speed even more, also by vibrating through his foes. His biggest attack makes him spin circles for area damage. This gameplay clip also features several tips on how to play.