Meet The Showdown Effect's Cast
A new and strange developer diary for The Showdown Effect has been released by Paradox Interactive. This 2D arcade free-for-all from Arrowhead Studios gives us an odd glimpse at their cast of characters, as told by vaguely insensitive developers.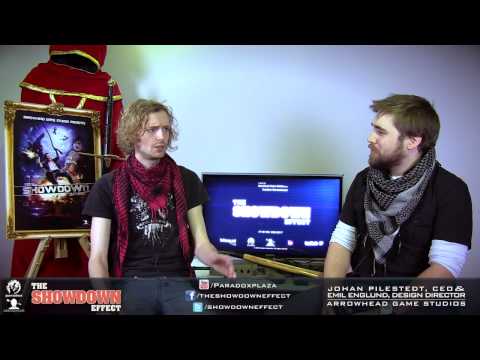 These developers are also the twisted minds behind Magicka; that action title that gave us a bunch of wizards crossing streams and dying a lot. So, it's safe to say they're no stranger to madness. In The Showdown Effect, we'll get to play with some stereotypical characters. One of these people is Lance, a ruff tuff police officer one day from retirement, looking to bag his last punk. There is also Hailey. She is the daughter of a laureate scientist of multiple awards and Nobel prizes. Her goal is to find out the secret behind his mysterious disappearance. A martial arts master by the name of Shur Foo emigrated to America and became a pawn shop owner, because "that the job they usually do," according to the developers. Finally, this dude named Dutch plays the average Joe, fused with some Bruce Willis action hero and an Austrian man of that same category. He's been teleported from the future and his identity has been stolen.
There are some broad generalizations in the clip, but we're 99% sure that it's in jest, given their background. However, we'd like to amend that if you joke about something long enough, eventually you'll attract people that do not realize it is indeed a farce. The Showdown Effect comes out for PC sometime in this year's quarter.