Posted
September 9, 2012
727
The Walking Dead: Long Road Ahead Review – Tear-jerking Apocalypse
Despite being similar to the other Walking Dead episodes already released, the third episode called "Long Road Ahead" is perhaps the best one yet. It might sound contradictory, but as the plot thickens and the universe of the character is expanded, every inch of change hits closer to home. When combined with the tumult and chain of events in this chapter, the tally becomes one gut-wrenching experience. There will be blood and tears might get shed.
If by now you're still not on board with the outlines of The Walking Dead season, we'll get you up to speed: you play the story of Lee, a man down on his luck when the zombie apocalypse sets in. Through the use of a heavily cel-shaded outlook with chilling soundtrack, this game plays out like a visual novel mixed with point and click elements. More importantly, the things that really shape the story are the timed conversation options presented to the player that have actual consequence. Whenever Lee reacts to anything, a blip will show you what the character thinks of that, unless you play in cinematic mode, in which case all you have to go by are facial expressions. However, your choice of words will come back to you at some point and no matter what, there will be tough decisions to be made on the spot. The Walking Dead plays games with your psychological state and that makes it one hell of a unique game.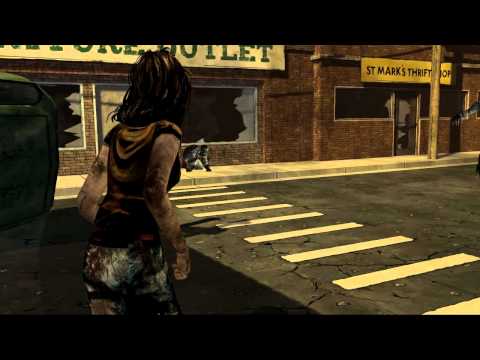 Through the pressure of time and extreme circumstances, The Walking Dead forces players to crawl out of their shell. The Long Road Ahead episode is the summit of this element so far. It starts with a horrifying decision and as time goes by, there will be several others that will radically change the group dynamics once again. You might even say that this episode is the most depressing so far, but not in a forced way. Whatever happens to Lee and the group is placed in such a way that it seems like a situation that is just desperately out of their hands and drifting further away the more they try.
The game's narrative shows once more that it's one of the most evocative in gaming so far, if not the best. At the very least, it's a prime example of how to shape a game as a visual novel and pack it with enough emotional content to make it feel substantial even with less gameplay. This third episode already builds off of 2 excellent precedents and with that it runs completely off the deep end. What used to just be a sad state of affairs becomes a cataclysmic nightmare where life is a fate worse than death. Group dynamics become increasingly shakier and that eventually results in a catastrophe where the tiniest shred of routine will be stricken from your comfort zone and replaced with topics you may not enjoy seeing. This unapologetic and realistic depiction of the human frailty is one of the most commendable things within the writing of this game series.
However, despite its climactic plot that drives itself in even further, the pacing in this episode trails on this time. The logical, grueling conclusion occurs near the end, but then the game moves on to tie on another large cluster of new and less impacting information before finally just stopping in an anticlimax. This is further presented in the game's puzzles, which create hiccups in progress. Solutions aren't made clear, as they aren't always driven by a sense of logic associated with the problem itself. Sometimes, the character will happen upon a conclusion by a different chain of events occurring outside the actual puzzle. It stunts the logical thinking behind solving an issue and makes it seem less important as a whole.
The good part is that a few new elements are introduced, such as a shootout. While its essence is still just pointing and clicking, it makes the player feel more actively involved in their own survival. You might not believe that this series has a lot of action, but it's at times like this that it proves players wrong. The game already keeps you locked in with timed answers that demand a decision, but the action portion offer only a very narrow window of escape, which heighten the adrenaline.
This episode rocks the boat on all fronts in that department. It's not just the writing that will grip you, but seeing as this episode feels longer; it also has a lot more room for dialogue as well as action. Whether it's the undead or the monstrosity that is the human race, people will provide obstacles for you more than actual obstacles do.
Even iconic characters receive more attention and get expanded. In particular, the little girl who tags along with Lee finally steps up from merely being a passive pawn and crosses the barrier of involvement. Now that she actually receives dialogue that feels important, she's also ready to open up more and become the apple of Lee's eye, like the series would want to portray. She may have had a rocky start, but Long Road Ahead is the pivotal episode in this series where everything clicks together and starts to matter.
It might throw one too many curveballs at you, but the third episode Long Road ahead is definitely the episode to persuade gamers that this episodic adventure game is worth getting. The unparalleled narrative with tougher choices than ever will impact your story, however you may choose to play it. Things will go from bad to worse and you'll be left to wonder how it could possibly get even more disastrous from there. Judging how that was also the feeling in the other episodes, The Walking Dead now starts a pattern of expectation where this will be demanded of them. A nice change of pace would be appreciated as well, but there might not be any room for that left in this roller coaster of emotion.
Overall

| Graphics | Sound | Gameplay/Fun | Story |
| --- | --- | --- | --- |

8
The Walking Dead stands as an example of how writing can shape a game, to such extent that the point and click aspect is a means to an end towards the rest of the astounding plot. Long Road Ahead manages to mix in a few new elements and ride the steady curve of the game's quality that goes ever upwards. It's now safe to state that this story is worth your attention and you'll at least enjoy more than half of it.