Some Of E3′s Interesting Trailers
Right now, E3 is in full effect and handing out info at such a troubling rate that it's hard to keep up with it all. I personally only had time to sit down for 1 conference yet. Instead, I've been gawking at trailers for games. I thought you'd might want to see a selection of those that got released for E3.
First up is Guardians of Middle-earth that got announced earlier. The online multiplayer game that lets Tolkien's cast duke it out does just that in this spiffy computer generated imagery (CGI) trailer. It's actually quite the powerful year for stunning trailers. Unfortunately, no real gameplay, but it does seem like the characters will work with the movie franchise's likenesses.
Injustice: Gods Among Us is a favorite, since it features DC Comics superheroes and villains going head to head. Again, this is done with expert CGI, down to the pores. It even slices in some in-game renders. The premise of the game is that our beloved heroes have turned into ravenous creatures set out to destroy each other. The issue there is that their bloodlust destroys everything in their wake as well, except for floors. Apparently a punch from all the way in outer space can't even make the ground budge too much. For namedropping sake, here are some character reveals: Batman, Superman, Solomon Grundy, The Flash, Harley Quinn and Wonder Woman.
Bethesda's Dishonored returns with an extensive trailer filled with glorious steampunk, cutscenes and gameplay elements. Apparently, a dark plague rages in the alternative Victorian era where mechanical contraptions meet traditional design. The whole gets presented through a background of eerie child chants. There is also, once more, no shortage whatsoever of executions. The art design certainly deserves praise already. A cinematic shot of a cathedral reveals a great amount of detailed care put into the environments. People are crying "BioShock" as of writing.
On to more recently released trailers, Demonicon received its first teaser. The game built with the universe of The Dark Eye in mind shows a CGI battle unfolding between two camps. The vast armies of humans and monsters advance on each other and then there's a map that gets shrouded in a dark cloud. It's all in favor of cinematics, probably.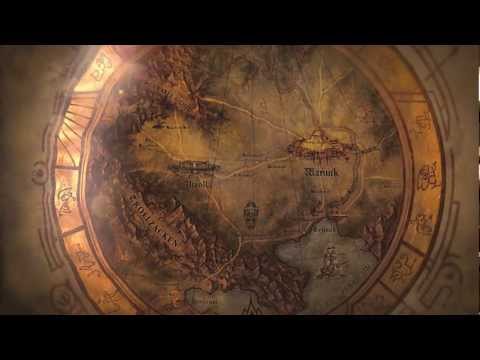 Next, take a look at Defiance; an MMO you may not have picked up on yet. This ambitious project by Trion Worlds, who brought us the popular online game Rift, seeks to blend TV reality and video games. In conjuncture with the SyFy channel, this third person shooter will allow players to play a game filled with action and galactic battles and then connect with the TV show of the same name. Since MMO's are not always strong on stories, this is a great way to keep both media focused on their strong suits. That leaves more time for blasting people in the trailer.
Lastly, Square Enix launched an extensive trailer for Theatrhythm, a spinoff of the Final Fantasy series that will release to celebrate the franchise's 25th anniversary. As the name suggests, this Nintendo 3DS game will play as a rhythm title featuring songs from all the Final Fantasy games you know and love. Players need to tap or slide their stylus according to the commands shown on the screen. The trailer shows several modes, such as a song played while running through fields. But there are also combat modes, where the entire party needs to input the correct rhythmical sequence or where summons go at it alone. There certainly seems to be a gradation of difficulty depending on the song. The rhythm section even gets implemented all the way down to world map travels, classic cutscenes and original songs.