Who Else Is At E3? Paradox Interactive
Indie games need E3 as well to promote themselves, except they don't all have the funds to create dozens of complex-wide banners that litter an entire convention. Luckily, Paradox Interactive does have some sizable scratch to adequately push their stable. So, what is this company up to at the expo?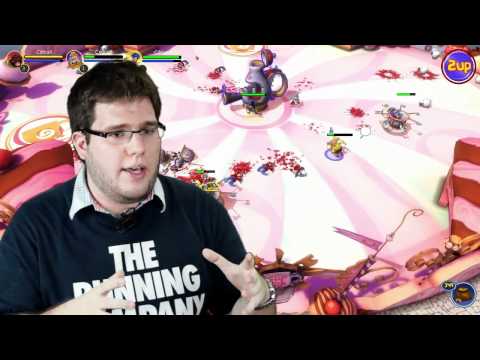 Well, a new developer diary for action RPG Dungeonland was released. This PC game that tries to recapture just exactly what roleplaying games were about is set in a colorful attraction park filled with monsters. The cooperative multiplayer game is said to require team work and knowledge of each other's skills, for it is hard; really hard. It's always tough to balance challenge, but it does seem like the developers have a solid idea of how to frame this.
Dungeonland uses a Dungeon Master (DM), like traditional roleplaying, to oversee the action. Just as in real life, a person can take charge of this DM and go mad with power as they try to eliminate the cooperative party.
The game does seem to lack direction however. Yes, the developers phrase it as "freedom" and the ability to randomize dungeons, but not having any structure is a dangerous thing. More info will be released later on.
For you bloodthirsty lot out there that didn't get your fill from watching the extensive Black Ops 2 footage, Paradox released some more in-game footage for War of the Roses. The Death Before Dishonor trailer blasts some power metal while men in suits of armor go to war. A huge battlefield ensues where people get stabbed, bludgeoned and killed in numerous other ways. Speaking of Battlefield, War of the Roses is being overseen by Gordon Van Dyke, a former producer in EA's Battlefield franchise.
The trailer displays equestrian combat, which is horseback slaughter. There also seems to be no shortage whatsoever of all types of armors, weaponry and locales. From full plates to simple robes and maces, lances, swords and bows get presented atop wooden bridges, green meadows and castle walls. This PC multiplayer game might switch things up in the world of online combat.
Their World War II simulator Hearts of Iron III will receive a third expansion called Their Finest Hour. Even three years after the release of the original there is still a loyal following big enough to launch a new add-on to this PC game. It will feature more elaborate espionage capabilities and new elite units for each army. Additionally, a Battle Plans mode will allow players to draw and share historical plans with each other in real time. More so, aside from other general restructuring of tactical combat elements, Their Finest Hour will include a custom game mode that allows players to skip some build up features to dive right into the action. Lastly, naval warfare will also be improved.
That leaves us with the perfect cheap segue to Naval Warfare: Arctic Circle. The naval simulator released earlier this year will now receive Steam Workshop support. This will include an elaborate mission editor that allows for creation and sharing of custom scenarios with players worldwide.